Media Pack 2023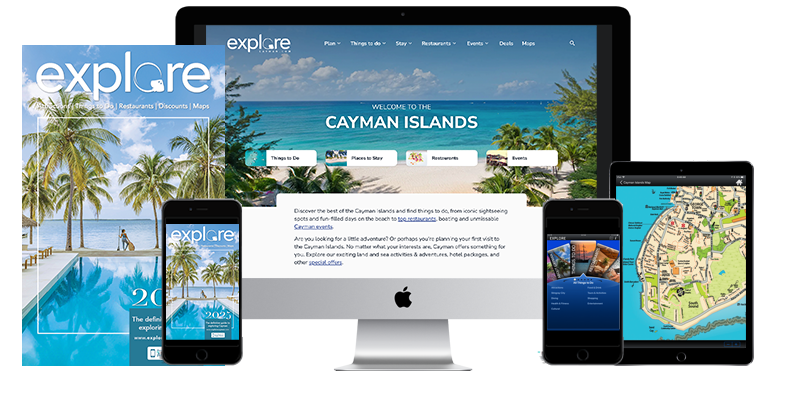 Awarded a prestigious silver ADDY award for overall magazine design in the 2016 Caribbean Advertising Federation (CAF) ADDY Awards, the Explore Cayman magazine has now been recognised on the international stage.
However EXPLORE's continuing growth and dominance in Cayman can be directly attributed to its unparalleled track record of successfully promoting its advertisers. EXPLORE is the only media product in Cayman that integrates print and digital technologies to offer advertisers a cost-effective advertising platform to reach stay-over visitors before they arrive in Cayman and while they are on Island. EXPLORE is faithfully recommended by the vast majority of hospitality professionals in Cayman because of the quality of production, its format and the invaluable information it provides visitors.
Complementing the print product and with the ability to dynamically change business, promotion and event information, are the Explore Cayman website, iPad app, iPhone app and the new eBook edition. These are easy to use, beautifully designed, interactive tools enabling advertisers to promote their businesses long before people arrive in Cayman. Every detail has been thought of, including ensuring that the apps eliminate roaming charges for visitors and so much more!
BEST RETURN ON INVESTMENT
Telephone tracking, advertiser renewals and testimonials show that advertising in EXPLORE really works and provides a fantastic return on investment.
MAXIMUM REACH
With a print run of 55,000 copies, you can be assured to reach more stay-over visitors with the free EXPLORE magazine.
BEST DIGITAL PLATFORM
The EXPLORE website, iPhone app, iPad app, new eBook version and social media presence offer readers the best digital resource before and during their stay.
UNPARALLELED DISTRIBUTION
EXPLORE has the most dedicated magazine racks, is available for free at over 350 locations including the Airport, rental car agencies, grocery stores and shopping plazas and has the best condo and hotel distribution.
REFERENCE GUIDE FORMAT
Readers are exposed to your business multiple times because the EXPLORE print and digital products are reference guides that are referred to again and again.
MORE VALUE
EXPLORE offers the best value for money when factoring the return on investment and the combined print and digital exposure.
EXPLORE Cayman is far and away the most requested guide at the airport booth. It flies off the shelves!
Melissa Hamilton, Booth Manager
Cayman Islands Department of Tourism

Over
350
Distribution Locations
The distribution of EXPLORE is unparalleled. The handy 'digest size' of the guide means that both stay-over visitors and residents can easily pop the magazine in a bag and use it as a reference guide. The aim is to get EXPLORE into the hands of visitors within 24 hours of their arrival and to achieve this strategy we:
Restock the airport information booth weekly
Have dedicated magazine racks in car rental agencies
Have over 65 dedicated EXPLORE racks around the Island
Distribute EXPLORE to all of Cayman's hotels, condos and resorts
Have EXPLORE placed in more guest rooms (together with Good Taste) than any other publication
Have over 350 distribution points including supermarkets, restaurants, shopping plazas and business to mention a few
Print 55,000 copies per year
The magazine is also available at overseas Cayman Islands department of tourism offices.
Total Island Coverage
EXPLORE distribution ensures that visitors and residents are given copies or can pick up a copy at over 350 locations around the Island. This chart shows the diverse nature of our distribution strategy.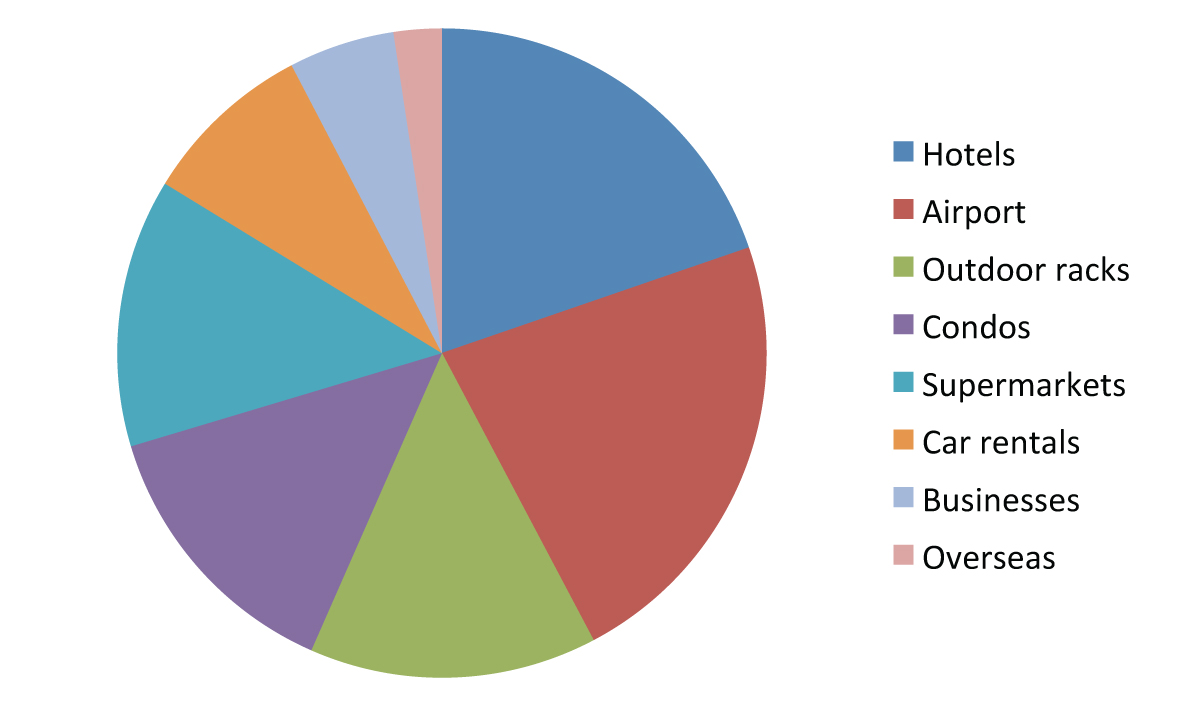 Data compiled in February 2018
'Welcome Pack' & In-Room Distribution
The EXPLORE magazine has significantly improved its popularity with hospitality professionals and is now being handed out as part of a welcome pack to guests or placed in guest rooms more than ever.
As can be seen from this chart, EXPLORE (and Good Taste) have consistently dominated and maintained incredibly strong support from property owners and condo managers for over six years.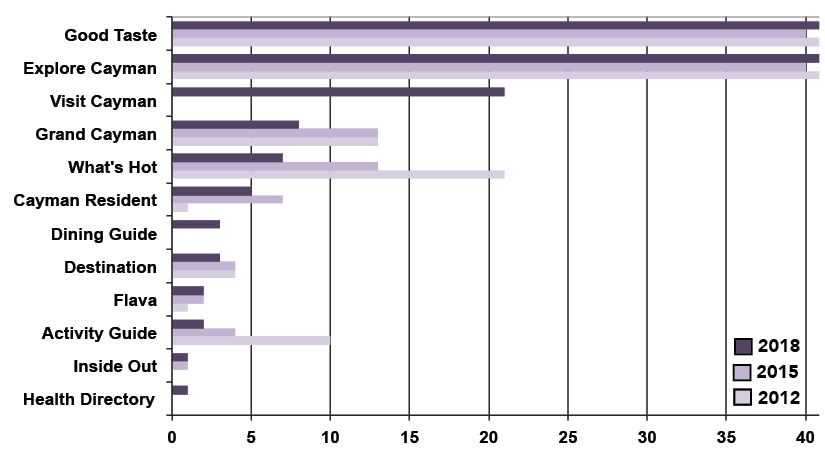 'Welcome Pack' means magazines are handed to guests on arrival. Data compiled February 2018 as a result of a survey of 52 properties in Grand Cayman by Acorn Publishing.
'Welcome Pack' & In-Room List
The EXPLORE Cayman magazine continues to be the most recommended visitor guide in Cayman, with 41 hotels and condos placing the magazine in guest rooms or handing out the guide when guests arrive. The following list shows the properties in Cayman which place magazines in guest rooms or hand them out when guests arrive.
* Placed in 'Guest Rooms'
Anchorage*
Aqua Bay*
Beachcomber *
Caribbean Club *
Cayman Reef *
Cayman Villas
Cobalt Coast *
Coco Plum *
Colonial Club *
Compass Point Dive Resort *
Coral Sands *
Coralstone *
Crescent Point *
Exclusive Resorts *
Grandview
Grapetree
Great House *
Harbour Heights
Heritage Club *
Lacovia *
Laguna Del Mar *
London House *
Margaritaville Resort *
Meridian *
Morritts *
Pinnacle *
Plantana *
Regal Beach *
Renaissance *
Seven Mile Beach Resort *
Shangri-La B&B
Silver Sands *
South Bay Beach Club *
Sunshine Suites *
Tamarind Bay
The Islands Club *
The Retreat (at Rum Point) *
Turtle Nest *
Villas of the Galleon *
WaterColours *
Wyndham Reef Resort
EXPLORE Rack Locations
George Town
AL Thompson's
Kirk Home Centre
Foster's Airport
Airport Post Office
Hurley's
Full of Beans
Private Jet Arrivals Lounge
First Caribbean
Cayman Islands Museum
Eastern Districts
Foster's Savannah
Foster's East End
Pedro St. James
The Botanic Park
Kaibo Restaurant
Wyndham Reef Resort
Morritts Resort
West Bay
Centennial Towers by Cayman National Bank
Foster's West Bay
George Town
Airport Post Office
AL Thompson's
Cayman Islands Museum
First Caribbean
Foster's (Airport)
Coffee Point
Hurley's
Kirk Home Centre
Private Jet Arrivals Lounge
Eastern Districts
Foster's (Savannah)
Foster's (East End)
Pedro St. James
Morritt's Resort
Wyndham Reef Resort
Car Rental Agencies
Andy's Rent-A-Car
Avis Cico
Budget Rent-A-Car
Discount Car Rental
Economy Car Rental
Firefly
Hertz
Marshall's Rent-A-Car
Payless
Thrifty/Dollar Rent-A-Car
Seven Mile Beach

Andy's Rent-A-Car
Café del Sol, Marquee Plaza
Captain Marvin's, Cayman Falls Centre
Cayman National Bank, Buckingham Square
Chamber of Commerce, Governors Square
Gino's, Caribbean Plaza
Foster's, Camana Bay
Holiday Inn
Icoa, Seven Mile Shops
Kirk Freeport, The Strand Plaza
KY Imaging, West Shore Centre
Taco Cantina, Buckingham Square
Margaritaville Beach Resort
Ragazzi, Buckingham Square
Saltwater Grill, Galleria Plaza
Smoothie King, Galleria Plaza
Starbucks, Camana Bay
Subway, West Shore Centre
Sunshine Suites
West Shore Centre Post Office
Yoshi Sushi, Cayman Falls Centre
Many of the larger condos
Cayman National Bank, Centennial Towers
Foster's West Bay
The Explore Cayman website is the most comprehensive website available for searching for things to do and events in the Cayman Islands. It is the ideal digital platform for advertisers to promote their products and services to stay-over visitors, both before and during their visit in Cayman.
ONLINE TRAFFIC (Avg. visits per month)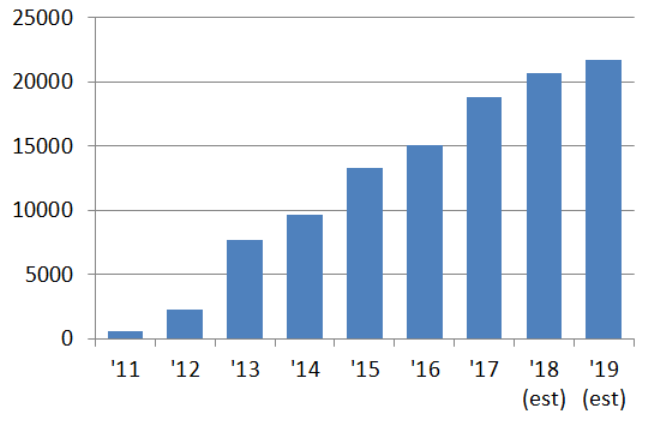 SIX REASONS TO ADVERTISE ONLINE
Quality Referrals
The website is designed to generate real business referrals not just casual enquiries.
Targeted Content
100s of articles, events, promotions and activities help to showcase your business.
Up-to-date Information
Users have grown to trust our content which ensures visitor loyalty.
Free App Profiles
Online advertisers also benefit from free profiles on the Explore Cayman app.
Strong Social Media
Businesses can leverage our strong social media presence of over 22,500 Facebook fans.
Highly Recommended
The website and app are highly recommended by hospitality professionals.
Congratulations once again on a wonderful website!
Rosa Harris, Director of Tourism
Cayman Islands Dept. of Tourism

50% on signing, 50% on publication
No cancellations after the space deadline
Media Requirements
Acorn Media will use a standard format to layout the Feature ads. For display ads, high quality PDF files are preferred. Other acceptable formats are TIFF or EPS, in which all fonts and images must be embedded. Ads created in Quark, Microsoft Word, Microsoft Publisher or any other word processing program will not be accepted. All artwork should be at least 300dpi and converted to CMYK. Files should be supplied on CD or DVD, via FTP, or emailed if the file is less than 5mb.
Artwork design can be provided at the discounted rate of CI$95 per hour for advertisers only.